The 35¢ Dowry (Mango Blood Book 1)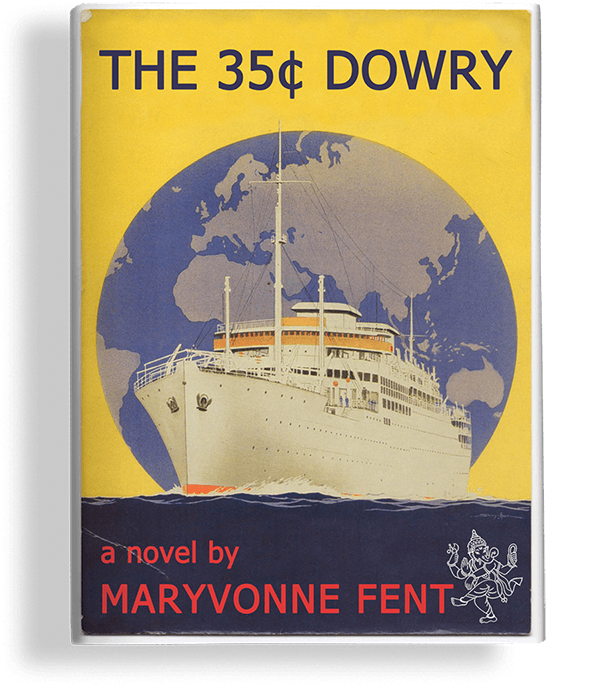 Order from:
BookBaby
Bookshop
Amazon
Barnes & Noble
IndieBound

When eighteen-year old Minouche, the Parisian daughter of a working-class single mother, meets Stefan, a charismatic Polish student longing for the spiritual enlightenment of Indian teachings, she realizes that the narrow life she shares with her mother is no longer enough. She daydreams of world travels with Stefan as they roam the City of Light, and as they fall in love, Minouche embraces not only Stefan, but his ardent desire to experience India. After he gets a grant and leaves to pursue his studies in Madras, she is determined to follow him. But how? It's 1959, and in Paris, money is still hard to come by. Can she raise enough cash for such a trip? And will Stefan welcome her if she succeeds? To fulfill her dreams, she must embark on a journey that will test her in challenging ways. The 35¢ Dowry is an edgy coming-of-age tale with loads of international flair and romantic color.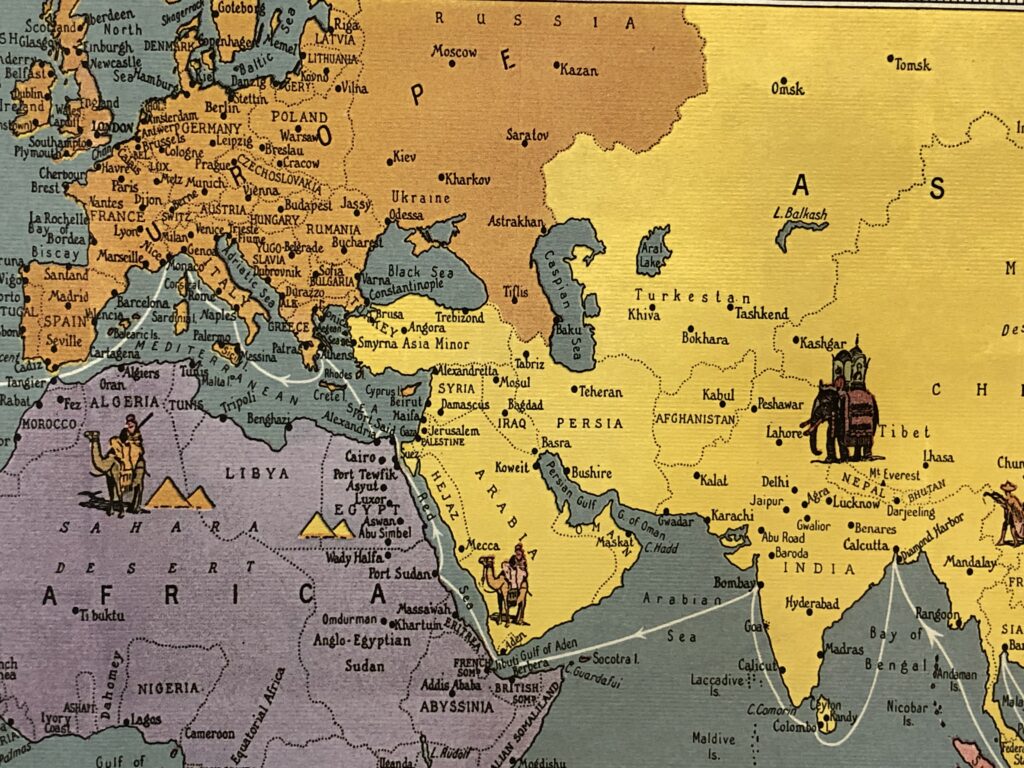 Follow Minouche's sea-voyage from Marseille, through the Suez Canal and the Red Sea, past the Gulf of Aden into the India Ocean and ending in Bombay, now Mumbai.
Reviews
"In Fent's debut novel set in the 1960, A French teenage girl gets a chance of a lifetime when an unexpected journey to India helps her reconnect with true love. 
An entertaining coming-of-age tale that explores family ties as well as colorful locales."
–Kirkus Magazine
"Maryvonne Fent's touching coming-of-age story took me on a romantic stroll through the streets of Paris and across the Indian Ocean to the bustling city of Bombay. Fent's lyrical descriptions of the book's locations are dazzling, and the intelligent cultural insights of young Minouche are thought-provoking. I loved the book and look forward to reading the sequel, Mango Blood."
–Carrie Bedford, author of the Aura series
"The 35c Dowry is the first part of a two-part book about Minouche, a young Parisian woman whose love for a young, stateless Polish man takes her on a coming of age journey from France to India. From a hopeful dream of sharing his wish to experience the exotic subcontinent with him, she goes on to discovers her own deep connection to the Indian culture. Maryvonne Fent has written a fascinating and beautiful book about the life of a young French woman as she leaves her home and travels to a new place and a very different life. A beautifully written story about a wonderful character. "
–Shelley Singer, author of The Blackjack Trilogy
Amazon Reviews:
Susan Garzon, author of Reading the Knots, 5.0 out of 5 stars An international coming-of-age story
I enjoyed this novel very much. In it, we meet Minouche, a Parisian teenager who has grown up poor in post-World War II Paris. She falls in love with Stefan, a charming young Polish man who plans to study in India, and suddenly, Minouche's world opens up. She yearns to follow Stefan to India, but without financial support, Minouche must find unexplored reserves of courage and tenacity. For me, the two greatest strengths of this book were Fent's ability to let us enter the world of a French girl and her beautiful prose style that enlivened the story.
david silverman, 5.0 out of 5 stars A wonderful symphony of words
The book is written like a well written piece of music. It flows and carries you along. The timing and cadence of the words match the storyline, starting with the very first paragraph where the you feel the confusion of the main character. Just like good music can carry you away, this novel carries you way to a new time and place.
Bryant, 5.0 out of 5 stars I'm absolutely loving this novel!
I'm just over halfway through with the book, but I had to stop and write a review because it's the best novel I've read in a while! I'm seriously having a hard time putting it down- which is naughty because I'm in a graduate program and have way too many other things to read. Not since the Outlander series have I become so attached to a story. Of course, this one isn't about time travel but the writing style and narrative really embrace you like a warm Parisian chocolate croissant and frothy latte. It isn't often you can lose yourself in great writing. The best writers, like ballet dancers, make grace and strength seem effortless, and Fent has this same artistry with narrative. Her unpretentious style sneaks up on you. I love how the young but wise Minouche bravely follows her heart while retaining her head, and I love how the story is exhilarating while still being completely relatable. I'm looking forward to book number two in the series!
Lesley Jones for Readers' Favorite (5 stars)
In The 35¢ Dowry by Maryvonne Fent, in post-war Paris, young Minouche listens to another brutal attack by her step-father against her mother. They finally escape and begin a new life where Minouche gradually learns the importance of family and friendship. When Minouche is 18 years old, she meets and falls in love with Stefan, a Polish immigrant, who longs to travel to Madras University and study Hindu philosophy. When Stefan leaves for India, Minouche decides to follow him, but with little money. Minouche decides to take drastic action to be reunited with her true love. As she is about to leave on the long boat journey, Minouche receives unexpected news from Stefan. Will she chase her dream of a life with her beloved Stefan in Madras and will he be there to meet her? 
The 35¢ Dowry by Maryvonne Fent is true escapism. I loved Minouche; what a sensitive, thoughtful but strong-minded character. The relationship she had with her mother was beautiful, supportive and loving. I loved to see her character develop and her confidence slowly grow as the story progressed. Each character that was introduced was very credible and their behavior and dialogue spoke volumes about their values. There are some very interesting references to immigration and the reasons people settled in certain countries. The moment Minouche arrives in India, the story lights up with a colorful narrative and really transports readers into a dynamic and culturally different country. This story has some touching moments but also some very dark ones, especially from Minouche's step-father. There are many unanswered questions and characters that I want to see more of, such as Bernard and Babula, so I cannot wait for the sequel, Mango Blood.
LizMishA, 5.0 out of 5 stars Wonderful coming of age story set in Paris and India
What a great story. If you like books that take places in foreign lands, this one is for you. Minouche, the young main character, lives in 1960s Paris, France, so we get all sorts of wonderful images of the city at that time, as well as the culture. That's because the author actually lived there at that time. She also lived in India, so when Minouche decides to follow her lover to that faraway land, it's easy to believe everything she sees and goes through. This story is like time traveling and being a fly on the wall. I love Minouche's bravery as she does everything she can to make her dreams come true. And it's just the first book in the series! Yay!
Camille V. Cira, 5.0 out of 5 stars ENGAGING STORY
Beginning to end, author Fent's story holds the reader's attention. It is well written, descriptive, both sad and heart-warming, It starts off with a rough beginning, the young protagonist Minouche and her mother escape from a brutal husband and stepfather. I particularly enjoyed throughout the novel the authenticity of experience and emotion as laid down by Fent. It is true and credible and often recognizable as part of a reader's own highs and lows. I highly recommend this story as compelling and unique.
Christine, 5.0 out of 5 stars Beautifully told love story takes you on a magical journey
I love this book! I didn't want it to end. It's a beautifully told story about the power of love, and how love can inspire us to pursue our dreams. The writing is wonderful and rich, replete with poetically descriptive passages that make the reader feel the time and place intensely. We're immersed in Minouche's world of 1950s Paris and India, and experience through her eyes her incredible, exhilarating story. I literally didn't want to put it down, and I never wanted it to end. I ordered the paperback version which I found to be beautifully designed and befitting of the story with a gorgeous simple lotus flower drawing announcing the beginning of each chapter.
RenRen, 5.0 out of 5 stars A stunningly sublime masterpiece!
The 35¢ Dowry got me hooked on page one. By page two l was in tears, fully empathizing with the teenaged protagonist, Minouche, who is forced to stand up to her drunken brute of a stepfather. She ultimately seeks liberation by hitching her wagon to a star, in the person of Stefan, her India bound Polish lover. One wonders if Minouche will succeed in escaping her impoverished life in Paris only to be trapped in another kind of cage, gilded with hopes of romance, adventure, and spiritual enlightenment in far-off India. You'll be tempted to read this page-turner of a novel in one sitting, but you'll want to slow down to savor the beautifully expressive prose in all of its exquisite sublimity. The author, Maryvonne Fent, grew up in Paris. Perhaps being French is what has colored her writing with a certain tint of poetic luminescence. Like masterfully applied brushstrokes to a canvas, she paints scenes so vivid that you can see, touch, hear, smell, and even taste the sights and sounds of Minouche's ever-expanding universe. I can't wait to read the sequel! Bring on "Mango Blood"!
Clare Foley, 5.0 out of 5 stars Recommend!
What a great story! Minouche is such a wonderfully human character. She is brave and fragile, simple and complicated. I was on her side from the first page. It was hard to put it down, I just had to know what happened next. I am looking forward to the next book and the the further adventures of Minouche.
Emmanuelle L Stone, 5.0 out of 5 stars a must read
This book took me on a fantastic journey.
Traveling in Paris in the Luxembourg garden to sailing to a far far place..
The book is written in such fashion that I felt the author was reading her novel to me..
Looking forward the sequel enjoy this marvelous adventure.
lars-erik , 5.0 out of 5 stars Amazing..!!!
A wonderful colorful journey of a young Parisian girl finding and winding her way through a sometimes frightful and challenging world to emerge in a new life in Madras, India..
fb-guy, 5.0 out of 5 stars An absorbing read
From the opening lines of the first chapter, we know that Minouche's life is not going to be ordinary. Although young, she is surprisingly mature, forced to grow up quickly to protect her mother from the cruelty of a violent stepfather. She has plans for a better life and, when she meets handsome Polish emigre, Stefan, she feels she has met her soul mate. But Stefan is on his way to India to study religion and philosophy, and she is determined to follow him. She knows that an education is the only way to escape the poverty that constrains her mother's existence — and there's no reason why that education can't take place in India. So she heads off on a long and challenging journey to chase her dream.

From Stefan, with demons of his own to tame, to Bridget, the friend Minouche left behind, Fent has developed a cast of interesting and colorful characters. And she has a way with lovely descriptions that bring her locations vividly to life. Throughout the book, she skillfully weaves in shrewd observations on love, relationships, class and race that never stop the flow of the story, but which raise it far beyond a traditional coming of age romance. I loved this book and I'm looking forward to reading the sequel.
John & Marina Rhinehart, 5.0 out of 5 stars An extraordinary woman who makes an extraordinary journey.
Read the free sample (4 chapters) on Kindle and I was immediately pulled into this extraordinary book. What I found extraordinary was how the author made relevant the events of her heroine (Minouche) – who starts her story in mid-50's Paris, with the harrowing tale of how she, her mother and baby sister escape from her brutal stepfather – to modern times. Minouche, too, is an extraordinary character, especially in a time when women had very limited choices.

Those four chapters whetted my appetite for more, but because I can't read too long on a computer screen, I ordered the paperback. Looking forward to finding out how Minouche finds her way from her life of near-poverty in Paris to India.
A CUSTOMER, 5.0 out of 5 stars A CAPTIVATING READ!
Having traveled to Paris for the first time a couple of years ago, I was able to identify with the settings taking place in this very romantic insight into the life of young Minouche. Maryvonne Fent's vivid descriptions of settings and emotions this young adventurist experiences held my attention from cover to cover. I'm looking forward to the sequel to find what transpires after Minouche arrives in India.

Julie Petitbon, 5.0 out of 5 stars A wonderful coming-of-age story
I loved this story. Minouche, the protagonist, is a strong, passionate, and independent young woman. Her story grips you from the start as she convinces her mother to flee from domestic violence. Full of beautiful symbolism and imagery, this historical novel is a must-read!